Volunteer
CityArt depends on volunteers actively participating in public art programming for their community to enjoy. Our volunteers have fun connecting with others, creating new relationships, positively enhancing our community and providing insight into a high profile program of Greater Mankato.
Recurring Volunteer Opportunities
CityArt Walking Sculpture Tour Docent
CityArt Committee
The CityArt committee provides leadership and support for public art initiatives in the City Center that benefit the residents, visitors and businesses of Mankato and North Mankato by providing free, accessible and exciting art for the community. Committee members assist Twin Rivers Council for the Arts and City Center Partnership staff by soliciting sponsorships, participating in sculpture and other art selection, providing hospitality to artists, being community ambassadors for CityArt, volunteering for installation, takedown, and tours, and offering advice on trends and best practices in public art.
Page Actions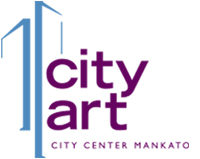 Page Image Actions