18
Whimsical Kites
Colleen Patterson (with grandsons Jonah and Evan Worke)
Minnesota
Artist Statement:
The design on the traffic signal box on Warren and Broad Streets was inspired by my grandsons. They are always moving freely and innocently, similar to the movements of the kites. The design has simple, straight lines but it also shows a fluid movement. The colors are bright and bold just like an innocent child. The simplicity of the design allowed the boys to be successful and proud of their work.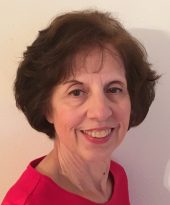 About Colleen Patterson (with grandsons Jonah and Evan Worke)
Colleen Patterson is a retired art teacher who grew up in St. Paul, MN and currently lives in North Mankato, MN.  She earned her undergraduate and graduate degrees from Minnesota State University Mankato. She had taught art for many years to students in kindergarten through twelfth grade, most recently in the Mankato School District. Her two youth partners were her grandsons, Jonah Worke (age 8) and Evan Worke (age 6). Jonah was a second grader and Evan was a kindergartner.  They were both excited about learning how to paint with acrylic paints and followed through from start to finish. They are very proud of the finished product.