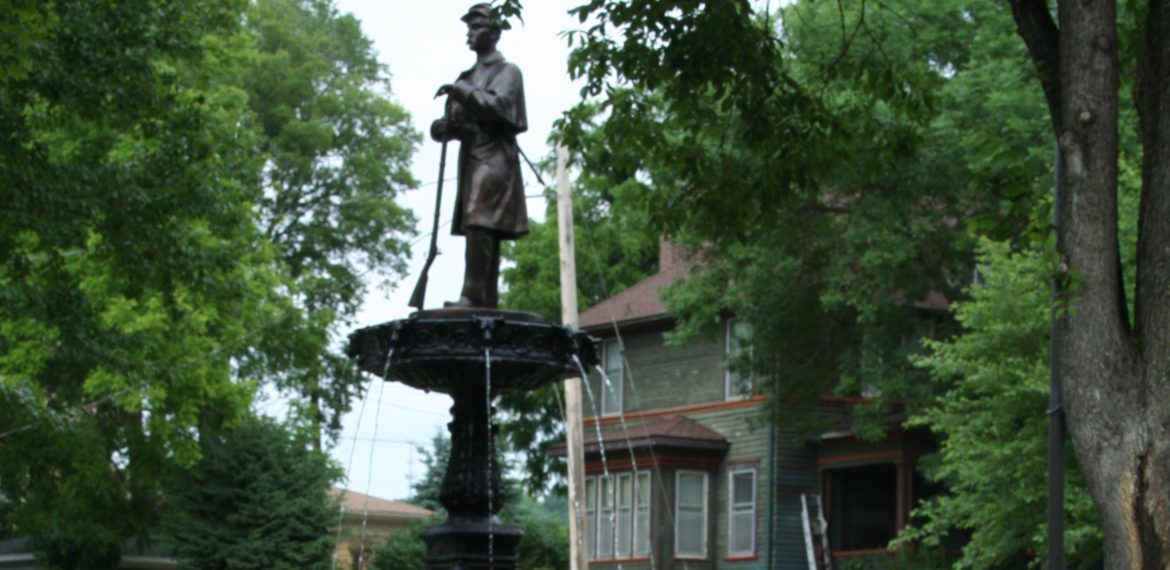 44
The Boy in Blue
Alan Gibson
Texas
Materials:
Mixture of fiberglass-like materials
Artist Statement:
Wishing to perpetuate the memory of the honored dead of the Civil War, the Alexander Wilkin Post, Grand Army of the Republic placed a bronze monument of a Civil War private soldier holding a musket at parade rest on a pedestal in the center of a stone basin in Lincoln Park. At each corner of the basin were rams' heads from which water would flow. A dedication ceremony was held on Memorial Day, 1893. The soldier's monument was called the Boy in Blue. The Boy in Blue fell into disrepair and had to be removed in 1922.
The Boy in Blue Memorial Project Committee is made up of individuals who have dedicated themselves to the job of restoring the Boy in Blue statue and fountain memorial in Mankato's Lincoln Park to honor and perpetuate the memory of the 682 Blue Earth County, Minnesota citizen soldiers who stepped forward and volunteered during the years 1861-1865 to protect and preserve freedom, their state and the Union.
Their goal to complete the project during the 150th anniversary years of 2011–2015 was realized when the memorial was dedicated on May 30, 2015.