10
Straight to the Heart
Dale Lewis
Minnesota
Sponsors:

Selling Price: $38,000
Audio Tour
Artist Statement:
The bigger the heart, the bigger the emotions. This one is 9 feet tall and covered with material from 8 bright red 55 gallon steel drums. I hope it spreads tons of love.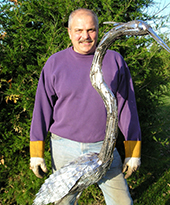 About Dale Lewis
Dale has gained national and international attention as a respected artist. For several years, his sculptures have been included in sculpture walks throughout a seven-state area including Minnesota, Wisconsin, Indiana, Kansas, South Dakota, Missouri and Iowa, as well as British Columbia, Canada.
Dale has won numerous awards including several People's Choice, Best in Show, Committee's Choice and First Place. Four of his sculptures were featured at the Minnesota Landscape Arboretum's Festival of Lights Exhibit in 2018.
Seven of Dale's sculptures are permanent and favorite attractions at Big Stone Mini Golf and Sculpture Garden in Minnestrista, MN. These include Wooly Bully (a life-size Wooly Mammoth),
Big Bird (a life-size extinct Elephant Bird), Sasquatch, Harley the Rhino, Dunes the Camel, When Pigs Fly the Natural Way and When Pigs Fly –They Will Fly a Fighter Jet.
While Dale's sculptures have long been purchased by retailers and private collectors, his sculptures have also been acquired as public art by Mankato, MN (Godzilla), Salina, KS (Slim the Elephant and Patches the Hippo), River Falls (Trout Slayer), Eau Claire, WI (Trojan Horse) and St. Joseph, MO (Cherry Tree).
Dale's sculptures are available for sale and lease. In addition, he offers three traveling exhibits: The Lewis & Art Exhibition, Scraposaursand Scrap to Sea. These exhibits emphasize the importance of recycling and encourage viewers to look at items that are thrown into landfills in a whole new way. The exhibits are available to museums, arboretums, aquariums, sculpture gardens and zoos. Dale is also interested in providing themed public installations whenever and wherever possible.