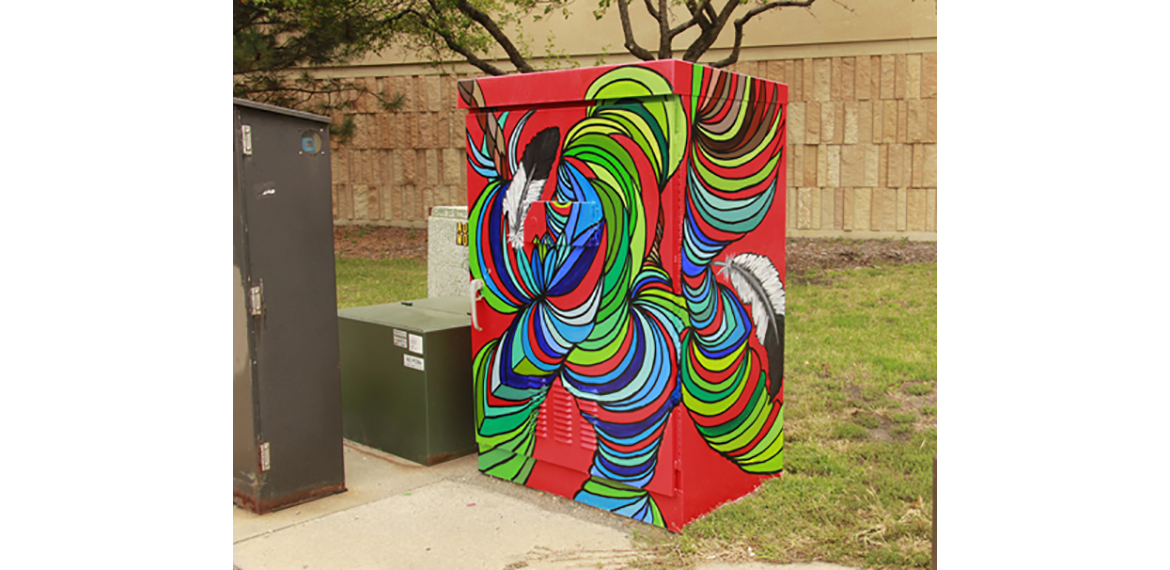 6
Noble River
Holly Theobald Dodge
Minnesota
Audio Tour
Artist Statement:
"Noble River" is a mural inspired by the rich and diverse history of the city of Mankato. The name Mankato derived from "Mahkato", which means 'the river where blue earth is gathered'. According to Mankato historian, Warren Upham, "…No more appropriate name could be given to the new city, than that of the noble river at whose mouth it is located."
The colors represent the landscape that Mankato has grown from. The feathers emerging from the painting honor the Dakota Sioux that were indigenous to the area. There are 38 red streaks dispersed throughout the abstract landscape to commemorate the 38 Dakota Indians that were executed in 1862.
About Holly Theobald Dodge
Holly Theobald (Dodge) is a mural artist, graphic designer, photographer, illustrator, and mother of two from Mankato. Holly studied Graphic Design at Minnesota State University, Mankato and during that time expanded her artistic endeavors under her business name, Hollywould Designs. In recent years, Holly has painted large and small-scale murals at locations in Mankato including Hoover Elementary, Chesley Skate Park, and her largest at the Mankato Family YMCA measuring in at 1700 square feet.  Holly uses colors and abstract imagery to narrate and disguise stories throughout her work. Holly's latest body of work stems from significant life events where important details may seem hard to recall, but the mundane details such as the color of a shirt are recalled with almost photographic ease.