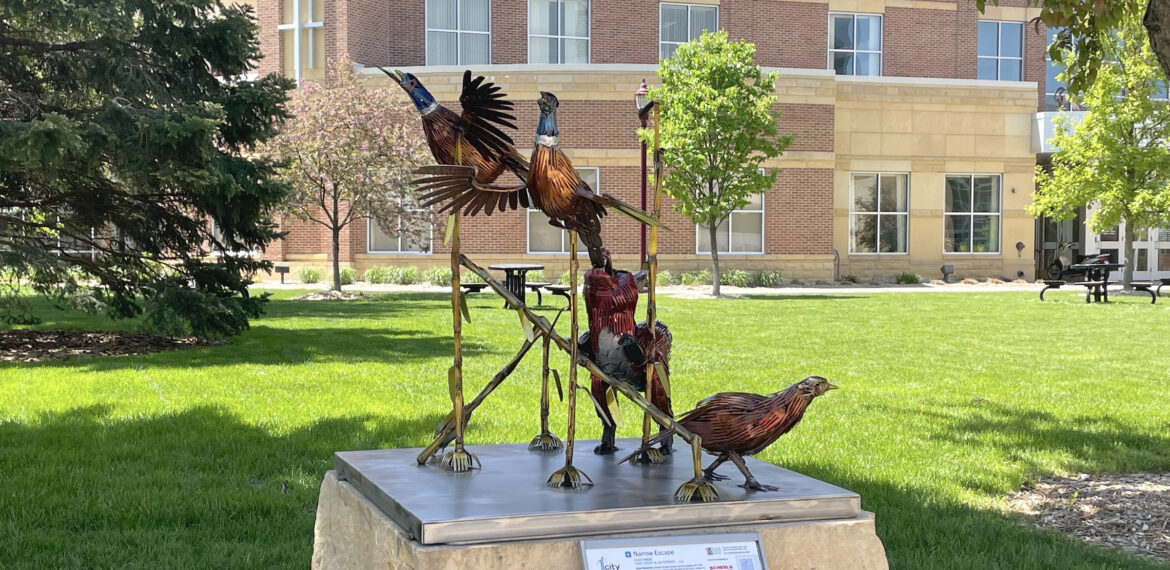 6
Narrow Escape
Gary Hovey & Jim Perrine
Ohio
Materials:
Stainless Steel Flatware including Forks, Knives, Spoons
Sponsors:

Selling Price: $18,000
Audio Tour
Artist Statement:
Narrow Escape shows a drama played out in life countless times. There's nothing like the thrill of the hunt, unless it's the relief of getting away! This piece is our first to use color glazes on my sculpture but it's still forks, knives and spoons at heart. It is also the first public piece made during our (official) partnership.
About Gary Hovey & Jim Perrine
Gary Hovey began metalworking at a fine art bronze foundry in 1981. In 2004 after becoming a skilled welder and fabricator, Gary began to make sculptures from forks, knives, and spoons. Hovey + Flatware = Hoveyware. Gary made his art despite the effects of
Parkinson's disease which he has endured more than 28 years. His award winning work has been seen around the world. Visit www.hoveyware.com or Hoveyware Sculptures on Facebook. Gary and Tonnie have been married since 1979 and have four grown children.
Jim Perrine has been a leather tooler, custom log home builder, chauffeur, auto mechanic, project manager, heavy equipment operator and welder. He and Gary met over 40 years ago as neighbors, soon becoming best friends. For the first seven years of Hoveyware, Gary built his sculptures in Jim's outbuilding. As Gary's Parkinson's progressed, Jim began pitching in to help as needed. He officially joined the Hoveyware Sculptures team in 2019. Jim and Becky have been married since 1980 and have two grown children and two grandchildren.