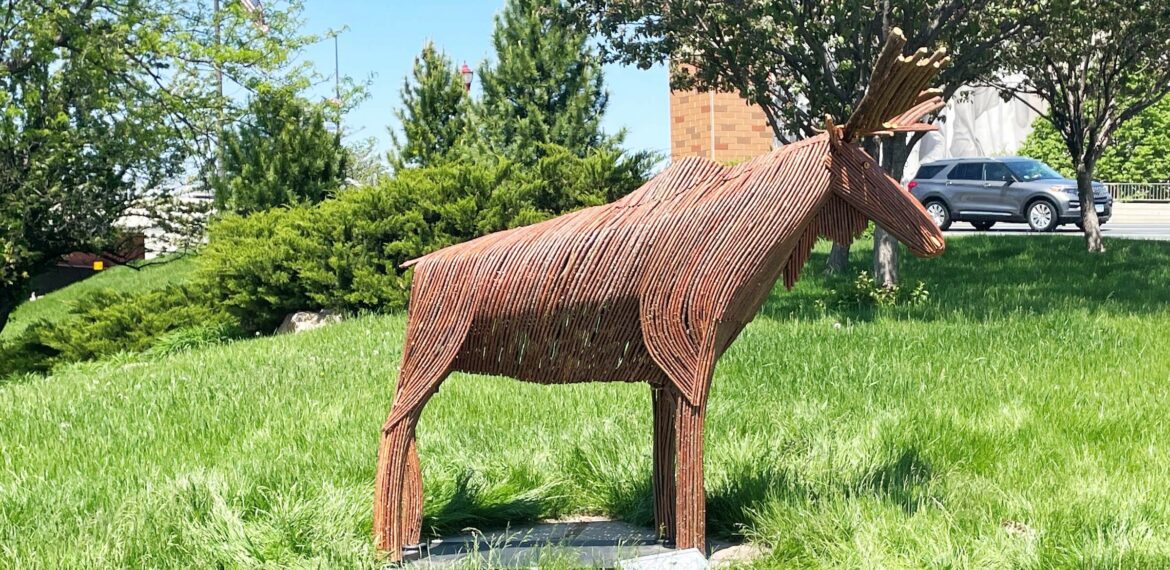 18
Moose on the Loose
Michael Legatt
Minnesota
Materials:
Wood – Willow and Ironwood
Selling Price: $10,000
Audio Tour
Artist Statement:
While out walking through willows–Mother Nature inspired me to sculpt a moose. I could see how each willow piece–bent just right–would form a part of the body. Walking on high ground, I saw ironwood trees and I saw how they would make the skeleton of the moose. After hundreds of willow pieces, thousands of pin nails–plus one in my finger–and many coats of Linseed Oil finish, it was finished.
About Michael Legatt
74-year-old male—married to the love of my life and we have a son and daughter. My religion and family are very important, and I believe if it's not fun don't do it. I am a lifetime resident of Stearns County MN currently retired.
I have—chewed on— worked with wood most of my life having a furniture manufacturing business for over 45 years.  My retirement years found me enjoying nature more which inspired me to create various pieces of art.
I am an Army veteran. As I have a passion to support our veterans, all proceeds from my art will go to a veteran's organization to support those who gave us our freedom.