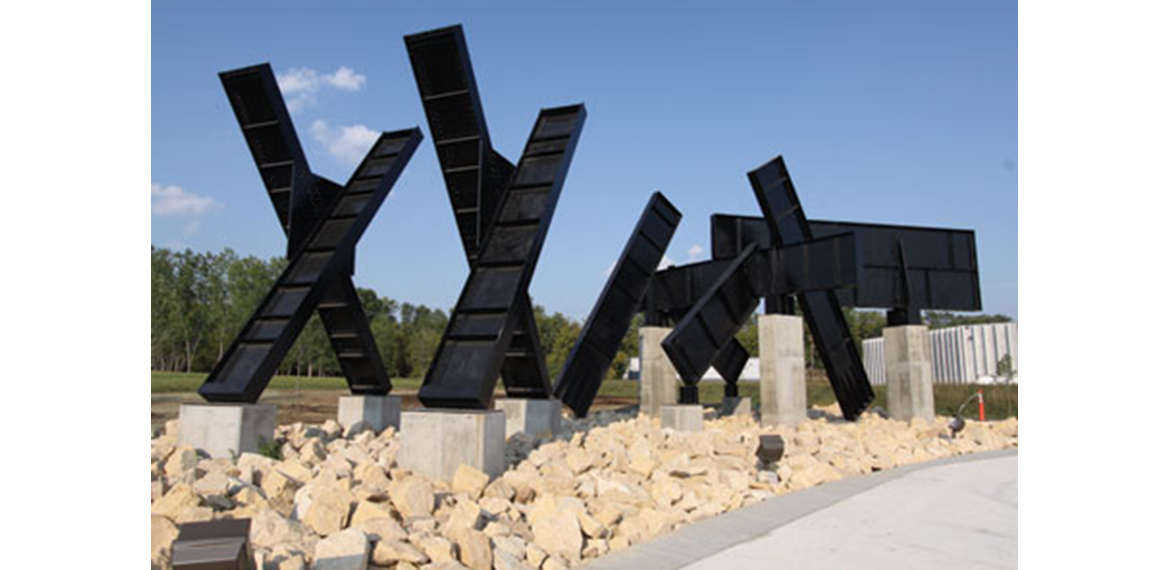 1
Mankato Piece
Dale Eldred
Missouri
Selling Price: Not for Sale
About Dale Eldred
Influenced by the monumental steel sculptures of David Smith and Alexander Calder, "Mankato Piece" by MN native Dale Eldred is constructed of Cor-ten steel painted black. Eldred was interested in architecture and astronomy. Like a building, the viewer's experience of the work changes with the time of day and season. In bright light the piece is defined by shadows, where at dusk the supports seem to disappear, creating the illusion of defying gravity. The sculpture is also a tribute to the "urban renewal" and the wonder of modern construction possible in the 1960's.
In 1968, the city of Mankato paid $9,400 for the sculpture, now appraised at over $60,000. According to the city's web site, Eldred called the work his "Piece" and said "it is what it is. A sculpture. That's all." In 2006 the sculpture was moved from its site near the Intergovernmental Center to make way for the Hilton Garden Inn and then installed at Riverfront Park in May 2009.
The grandson of Finnish immigrant builders, Eldred was raised in Minnesota. He moved to Kansas City in 1959, fresh out of the University of Michigan. Within a year, he was named chairman of the sculpture department of Kansas City Art Institute where he taught for 33 years. An internationally recognized artist, he received numerous awards and honors, including a Guggenheim Fellowship and grants from the Ford Foundation, the American Institute of Architects and the National Endowment of the Arts. He also served as the artistic director of Biosphere II, and was a fellow at the Massachusetts Institute of Technology Center for Advanced Visual Studies. Tragically he died in a fall in his campus studio during the flood of 1993 trying to save his tools and art.
<b>Location:</b> Riverfront Park