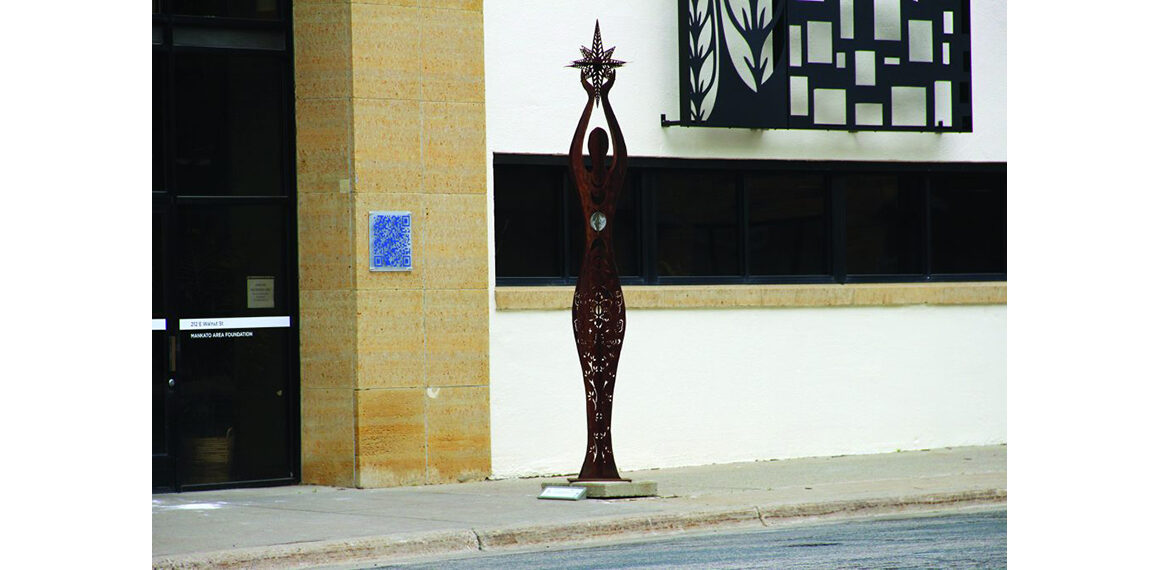 11
Luna
Karman Rheault
Minnesota
Sponsors:
Selling Price: $9,500.00
Audio Tour
Artist Statement:
The moon is a feminine symbol, representing the rhythm of time as it embodies the cycles and phases. It symbolizes immortality, eternity and enlightenment. In ancient Roman religion and myth, Luna is the divine embodiment of the moon. This sculpture is my interpretation of this goddess.
About Karman Rheault
Karman Rheault is a noted metal sculptor in her region and her distinctive creations have sold nationally since 2007. She has been a member of the nation's longest running artist cooperative gallery, Gallery 4, in Fargo, N.D. since 2003. Serving as Gallery 4's president from 2008-2016, Rheault has also served on the Board of Directors for Lake Agassiz Art Council, was Director of the Moorhead River Arts Artists Market, managed The Log Cabin Gallery in Moorhead, Minn., and served on the Fargo Public Arts Task Force Committee.
A Native of Bismarck, N.D., Rheault received her art education from Minnesota State University, Moorhead, and Southern Illinois University. Her home and studio are in rural Moorhead, Minn.. She says that she draws inspiration from multiple aspects of life: relationships, motherhood, nature, femininity, and spirituality. Comparable to nature, she aspires for each of her pieces to be unique and reflect the reality of the natural world where nothing is an exact duplicate. Through her art is how she feels her biggest connection with others and Rheault puts her heart and soul into every piece.