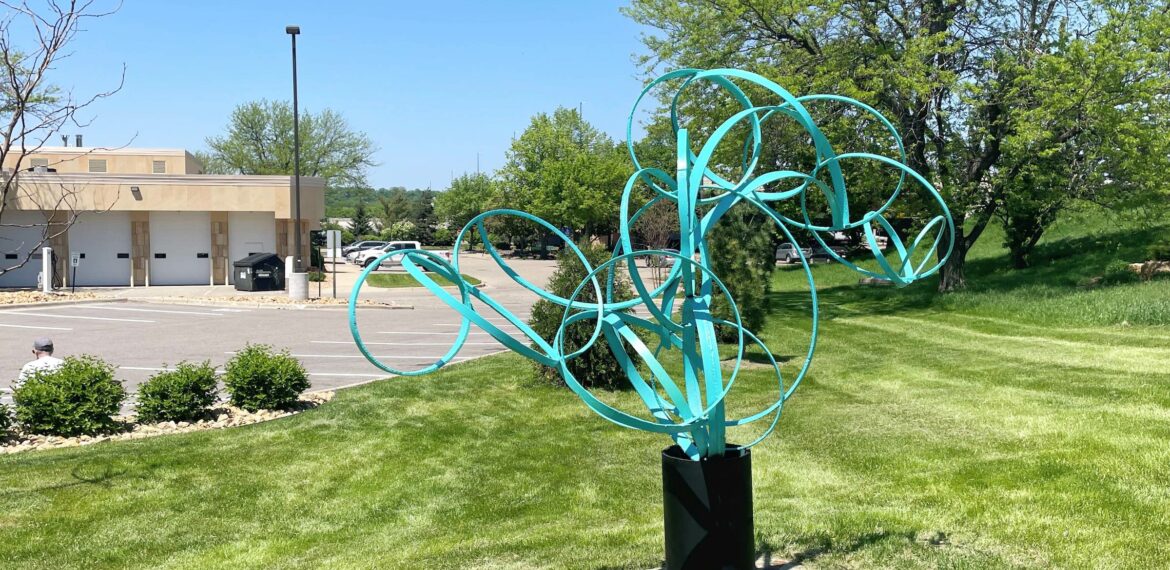 19
Infinite Possibilities II
LongHua Xu
Arizona
Materials:
Reused Pipe Iron and Paint
Selling Price: $10,000
Audio Tour
Artist Statement:
"When one door closes, another opens." This sculpture represents our life as unending cycles of death and rebirth, linked together in an infinitely expanding loop. It represents the unending potential of the womb to produce new birth and possibilities. We are reborn as a blank slate and can essentially create any life we desire. I chose to reuse waste pipe iron as the material to follow the theme of giving new life to previously discarded material.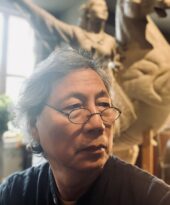 About LongHua Xu
Longhua's interest in art began as a child when his older brother Binghue would take him to the park to paint landscapes. As his talents blossomed, the Chinese National Arts and Crafts Company – created after the reopening of trade relations between the United States and China – selected him, as part of an elite group, to learn more traditional Chinese art at Luo Qing in 1971. This art facility, which encompassed all of Shanghai province, was dedicated to furthering the art education of gifted students from all over China to create a new generation of professional artists following the end of the Cultural Revolution. Xu graduated from East China University of Technology with a degree in Fine Arts and went on to teach art at Shanghai University of Technology until 1989.
He began displaying his art nationally in 1972, with several exhibitions all over the country, including the Shanghai Art Museum. He also erected several monumental sculptures in Shanghai. Many of his works were published in nationally distributed magazines in China and presented as national gifts to foreign dignitaries. One of his sculptures was selected to be in the Complete Works of World Master Sculpture (The End of the 19th Century to Present.)
In 1989, he was invited to immigrate to the U.S. with the title of "Outstanding Artist" under the "Extraordinary Ability" program. He felt that in America there would be more access to artists from all over the world. In 1992, he was commissioned to make "Mother Nature." He was chosen from a pool of many artists vying for the job. For this work of art, President William J. Clinton wrote him a letter which said: "The sculpture is a beautiful addition to the Bathhouse Row and should bring enjoyment to millions of visitors for years to come."
Since then, he has created countless pieces of public art for parks, schools, and hospitals, as well as numerous pieces for private collectors. Several of his works have gone on to be designated national treasures and cataloged in the Smithsonian Institution Catalogue of Great Public Works. Although sculpture is his passion, he loves all mediums of art. He has always said that, "In order to fully express one's ideas, thoughts, and emotions, one must be proficient in all techniques of art. Since art is not separated by country or race, then it should also not be separated by technique or medium. This way, the expression of those ideas and visions are limitless." This philosophy is in many ways similar to that of his hero, the artist Michelangelo, who was also proficient in many techniques and mediums. Xu has dedicated his life to this philosophy, and continues to explore new avenues of expression with stone carving, relief sculpture, bronze, pottery, oil, acrylic, and even architecture.