25.
Goyahkla (Geronimo)
Dawn Hessel Record
Colorado
Materials:
Colorado Yule Marble
Sponsors:

Selling Price: $8,750
Audio Tour
Artist Statement:
The piece is a portrait of Geronimo. This stone carving, done in Colorado
Yule Marble, was inspired by a photograph taken by Edward Curtis in Washington, DC
near the end of Geronimo's life. Simply adorned by a bandana and wool blanket, Curtis
favored this image over his formal portrait of Geronimo in full ceremonial dress because
it was more representational of the person, his friend, in everyday life. I was intrigued by
his expression, his ancient looking face, the textures of the fabric and the folds of the
blanket, as well as by his story.
Having done many portraits in clay, for bronze, I wanted to try my hand at sculpting a
portrait in stone, and Geronimo is my first. I worked from a collection of photographs,
taken throughout his life, using the Curtis photo for composition.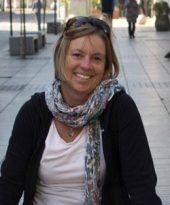 About Dawn Hessel Record
I always wanted to be an artist but couldn't afford the "starving" part. So I studied design and fine art. I spent over 30 years doing design work and loved it! Riding the wave of the industry's technological revolution was thrilling. I was lucky to "grow up" with Macs and Photoshop—the most amazing tools I've ever used—and it just keeps getting better. Now I use these tools to do portrait sculpture.
Doing creative work on a computer all day gave rise to my desire to create something tangible. I always enjoyed illustration and flat work in various mediums, but from the first moment I held a lump of clay in my hands I was hooked on sculpture. It wasn't long before I got into figurative work, attended an in-depth workshop on sculpting the human head from models and quickly had a few commissions to do portraits. When I got the opportunity to do a life-size memorial of a beloved local character who died, I discovered that I had a talent for creating compelling three-dimensional likenesses from still and video images.
I am most inspired by the human form and facial expressions. I love faces and figures of every shape and kind. I find them all beautiful and unique. My aim in each piece is to capture the essence of a person and tell their story through movement and expression.
Stone sculpture is an exciting new medium for me. I attended a carving symposium in Marble, Colorado, where I met amazing people and discovered another wonderful medium and process for sculpting. I've been lucky to learn from some of the most talented sculptors in the country. Exploring abstract shapes while learning the art of reductive sculpting has been fascinating. My artistic style has evolved since beginning to carve stone. I'm anxious to sculpt some faces in stone.