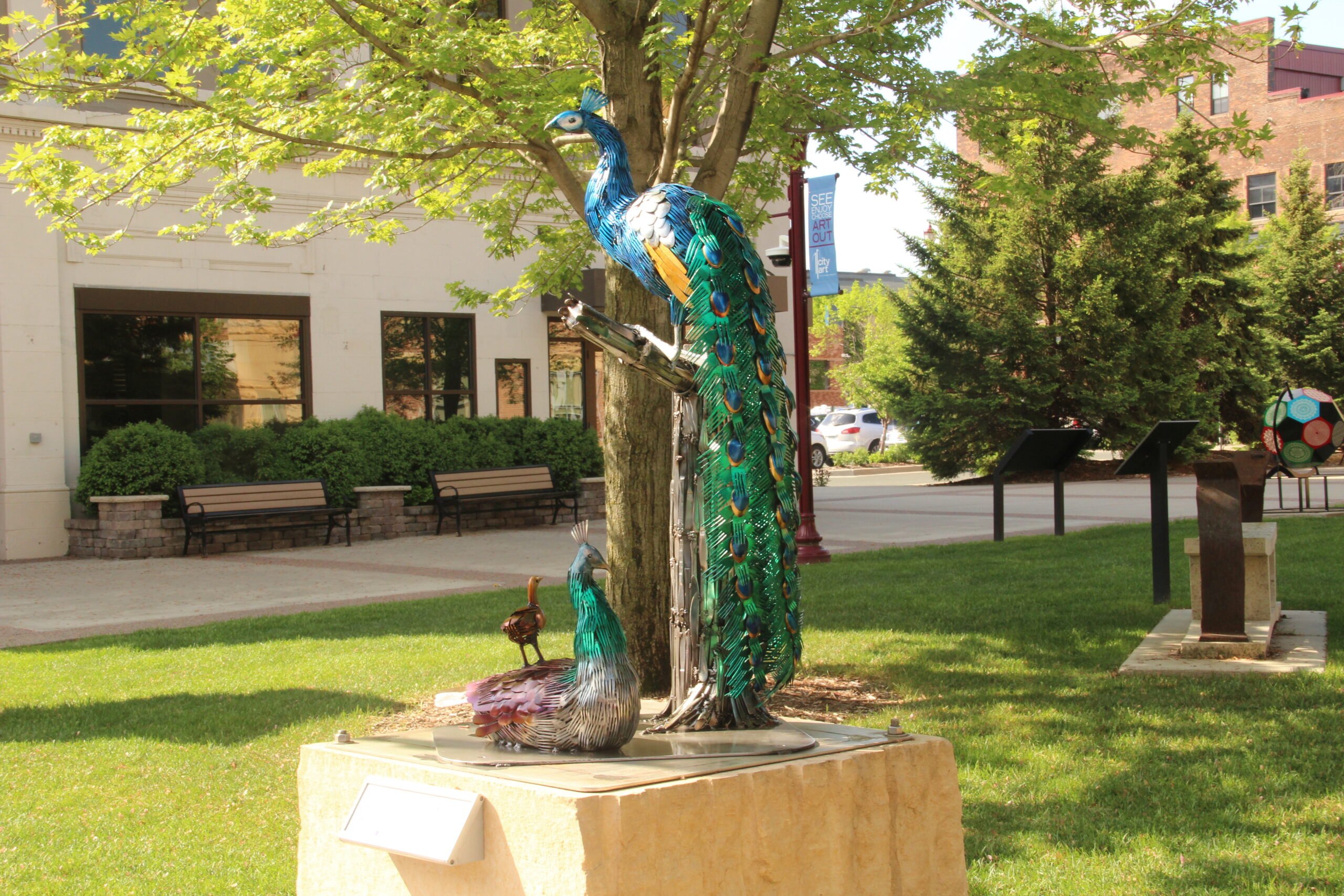 6
Fine Feathered Friends
Gary and Tonnie Hovey & Jim Perrine
Ohio
Materials:
Stainless Steel Flatware
Selling Price: SOLD!
Audio Tour
Artist Statement:
Fine Feathered Friends could be called Tine Feathered Friends for all the forks used in making the feathers! The male, female and two chicks are made entirely of forks, knives and spoons. The challenge in applying colors to these peafowl was to make the male brilliantly vivid while the hen and chicks are subtle and muted. But we had to try, because what's a peacock without his color?
About Gary and Tonnie Hovey & Jim Perrine
Gary Hovey – Gary Hovey began metalworking at a fine art bronze foundry in 1981. In following years he gained much experience, outside of art, as a skilled welder and fabricator. In 2004 Gary began using his imagination and welding skills to make sculptures from forks, knives, and spoons. Hovey + Flatware = Hoveyware. Why flatware? There's a lot of old flatware to recycle, it's a challenge to use, and it keeps things interesting. Gary continues to make his art despite the effects of Parkinson's disease which he has endured more than 25 years. His award winning work has been seen around the world. Visit www.hoveyware.com or Hoveyware Sculptures on Facebook. Commissions are accepted on a waiting list. Gary and his wife, Tonnie, live in New Knoxville, Ohio. They have been married since 1979 and have four grown children.
Jim Perrine – As a man of many talents, Jim Perrine has been a leather tooler, custom log home builder, chauffeur, auto mechanic, project manager, heavy equipment operator and welder. He and Gary met over 35 years ago as neighbors and soon became best friends. For the first seven years of Hoveyware, Gary built his sculptures in an outbuilding at Jim's. As Gary's Parkinson's progressed, Jim began pitching in to help as needed. After his retirement, he officially joined the Hoveyware Sculptures team in 2019. He and his wife, Becky live in New Knoxville, Ohio. They have been married since 1980 and have two grown children and two grandchildren.