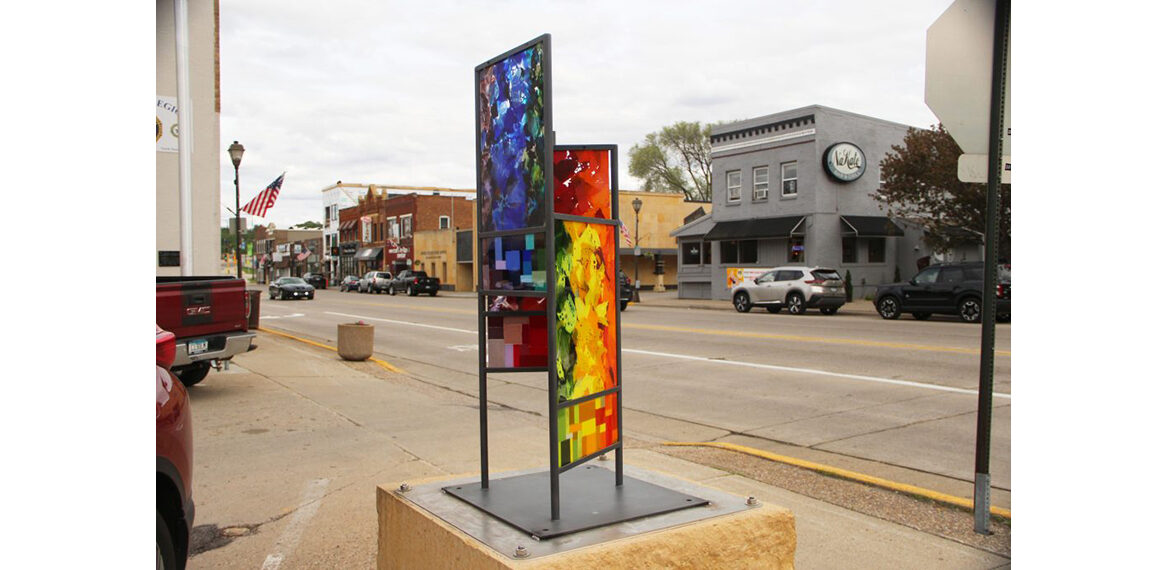 26
Chroma
Don and Ellen Ljung
Illinois
Materials:
Cast Glass and Powder-Coated Metal Stand
Sponsors:
Selling Price: $12,000.00
Audio Tour
Artist Statement:
Working collaboratively, we design a 3D maquette. Don's scientific, linear process complements Ellen's tendency to push boundaries and eye for color. We build molds to contain the glass, cutting and layering it to our design. After casting, we cold work the glass with saws, grinders, and diamond pads for a final polish. The finished glass goes into a powder-coated frame that we designed.
The color wheel inspired this sculpture, allowing us to use two different techniques to express its range and relationships. Each lower patchwork section displays a primary color and its morphing into its secondary colors. The larger sections on top mimic that in a more dynamic way.
According to the Artists Network, "In color theory, chroma refers to the degree of vividness of a color, or how pure it is compared to its representative on the color wheel. It can also be called saturation, or color intensity." Our Chroma strives to capture the intensity of colors along with their interplay and reflections.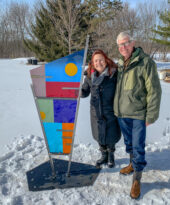 About Don and Ellen Ljung
Partners in life for over four decades, Don and Ellen Ljung find their skills and style to be complementary in their work with glass. They have a studio in their home with three kilns. They work collaboratively, and Ellen's expertise in color is matched by Don's expertise with the kilns as they experiment with new ways to design with glass. Together they create serving pieces, art panels, wall art, and sculptures using the brilliant colors and wide range of light diffusion and reflection of glass.
Fusing and casting glass allows the Ljungs to explore the attributes of natural elements, combining color, shape, and texture in unusual ways. Although they use a wide range of colors, their work tends to feature the rich blues and greens they see in wilderness kayaking and the rich hues of fall foliage. Always seeking new visions for materials and design, they employ inclusions of dichroic glass, metals, handmade frit, pattern bars, and glass swirls made over a torch, as well as sandblasting, to distinguish their pieces. For large sculptures, they design metal stands that are fabricated by a blacksmith and then powder-coated to their specifications.
Their international travel and frequent visits to art museums have shaped their design aesthetic. Their website address is www.donellendesigns.com.