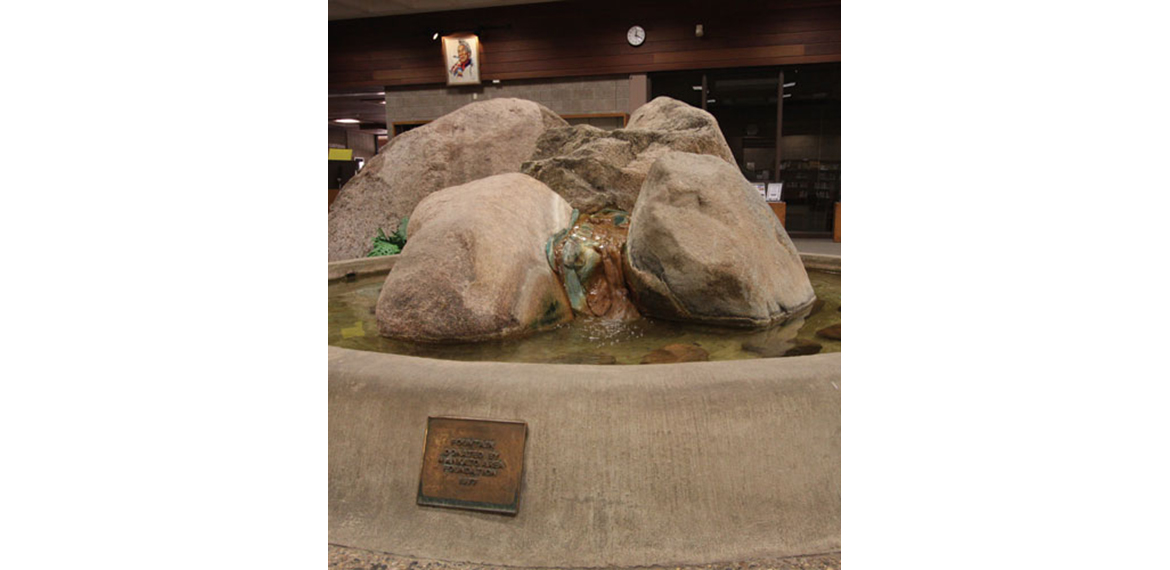 9
Blue Earth County Library Fountain
Raymond Jacobson
Minnesota
Materials:
Cast Bronze & Glacial Boulders
Artist Statement:
The focal point of the BEC Library is the Fountain, a 48' by 48' floor area made of cast bronze and six glacial boulders from Minneopa State Park. The Fountain was commissioned by the Mankato Area Foundation in 1977 and designed by artist and professor Raymond Jacobson.
Location: Blue Earth County Library, 100 E. Main
About Raymond Jacobson
Ray Jacobson was born into a hard working Utah farm family in 1920 where he struggled with his family through the drought and depression of the 1930's.  His ties to the land and to nature, along with the notion of public service and the desire to improve the lives of those around him, has informed his art. In 1941, in the wake of the attack on Pearl Harbor, Ray interrupted his formal artistic education to enlist in the Naval Air Corps where he was trained as a carrier-based diver bomber pilot.  After the war he completed his MFA in Art at the University of Colorado and began teaching, first at the invitation of his alma mater, then at Baylor University and the University of Indiana, before coming to Northfield in 1955.  He spent the remainder of his teaching career at Carleton College simultaneously working as a professional artist, exhibiting his work nationally, winning awards and receiving commissions for his sculptures.