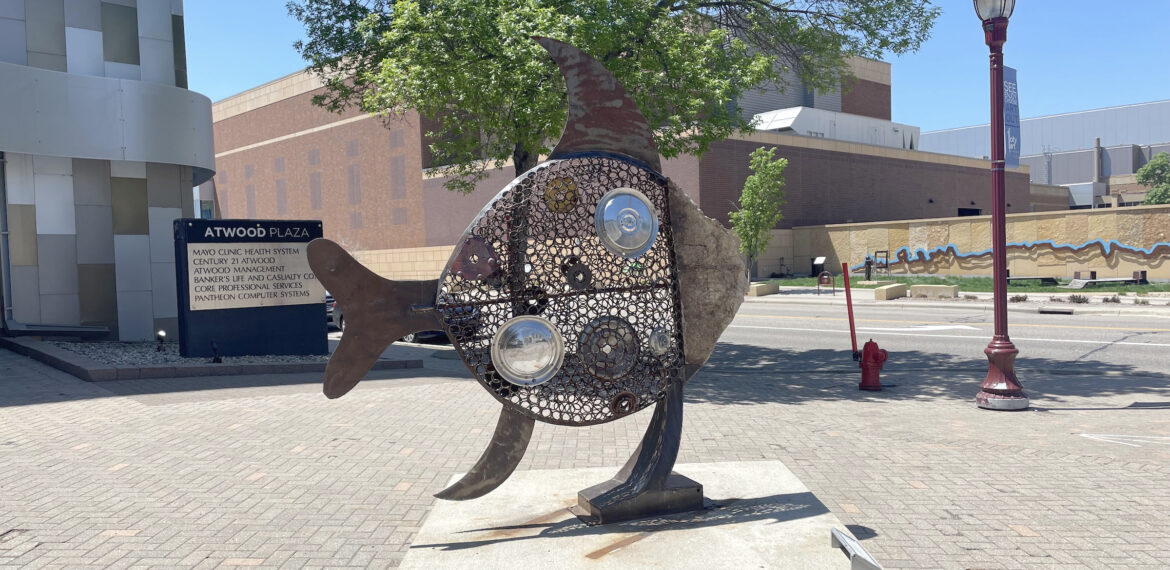 12
Angelica
Joe and Terry Malesky
Missouri
Materials:
Repurposed Steel, Found Objects, Rocks
Selling Price: $8,500
Audio Tour
Artist Statement:
Angelica is a pterophyllum, also known as the angelfish. The thought of creating an angelfish sculpture began the day Joe found the rock that is now the head of Angelica. As you can see, the body consists of a variety of materials such as gears, hubcaps and garage door springs. Joe states that it was like putting a puzzle together while creating this sculpture as he looked for "just the right piece" to fit perfectly.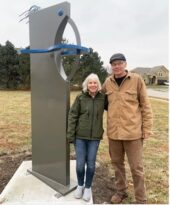 About Joe and Terry Malesky
Joe Malesky started his life long dream of being an artist when he retired in 2013. Terry Malesky was his assistant for the first four years but became his artistic partner when she retired in 2018 and they formed New Adventure Sculptures LLC.
Joe enjoys going to scrapyards to search for materials that can be repurposed. He is inspired as he finds pieces of steel and knows almost immediately that he can give new life to that steel as he creates a sculpture. Joe has been welding since he was 13 years old and has worked in industry most of his life. His favorite medium to work with is steel but he also works with concrete and rocks.
Terry has always been "artsy" and creates art in several mediums. She brings different talents to this artistic team: use of colors, painting, sculpture ideas, organization, communication, naming the sculptures/statements and assisting in the shop.
Joe and Terry enjoy creating sculptures that bring people joy when they see the sculpture. They are giving a piece of their hearts and souls to each sculpture, therefore, they hope that others are personally and positively impacted by their art creations.