Connecting the Community to Art
Program
Free CityArt Walking Sculpture Tour Guided Tours
Join us for free guided tours of the 2018 CityArt Walking Sculpture Tour, featuring 27 sculptures from artists across the U.S. Our fabulous sculpture walk docent will lead you through City Center Mankato and North Mankato providing fun facts about each artist and inspiration behind the artwork.
2018 Tour Dates:
Saturday, June 9
Saturday, July 14
Saturday, August 11
Saturday, September 8
Tours begin at 10:00 am at sculpture 1 location (Water Works, located by Pub 500 at 500 S. Front Street). Bring a water bottle, comfortable shoes and camera to tag yourself (#cityartkato) with these beautiful sculptures! The entire tour takes approximately 90 minutes.
For more information contact Twin Rivers Council for the Arts at 507-387-1008.
Mankato on the Move – Self-Guided Audio Tour
Explore public art in City Center Mankato at your own pace. Use the Mankato on the Move audio tour tool to find interesting facts and inspiration on each artist and sculpture on the Walking Sculpture Tour and the On the Go traffic signal box murals. You can also hear each poem featured on the Mankato Poetry Walk and Ride read by the poet! Look for the phone numbers on the sculpture and poetry plaques. Use your cell phone, smartphone or tablet to listen and find information. Look for the Mankato On the Move Audio Tour Logo
Public Art and Placemaking Tool for City Planners
Mankato is one of five southern Minnesota cities chosen to develop and pilot a Public Art and Placemaking Tool for City Planners with Forecast Public Art and the American Planning Association. CityArt will work with City of Mankato staff on this project meant to use public art and creative placemaking to improve the health of the participating cities; this could include physical health, economic prosperity, community wellbeing, social cohesion, livability and a healthy environment.
Page Actions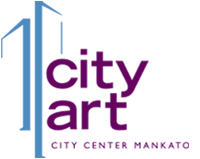 Page Image Actions