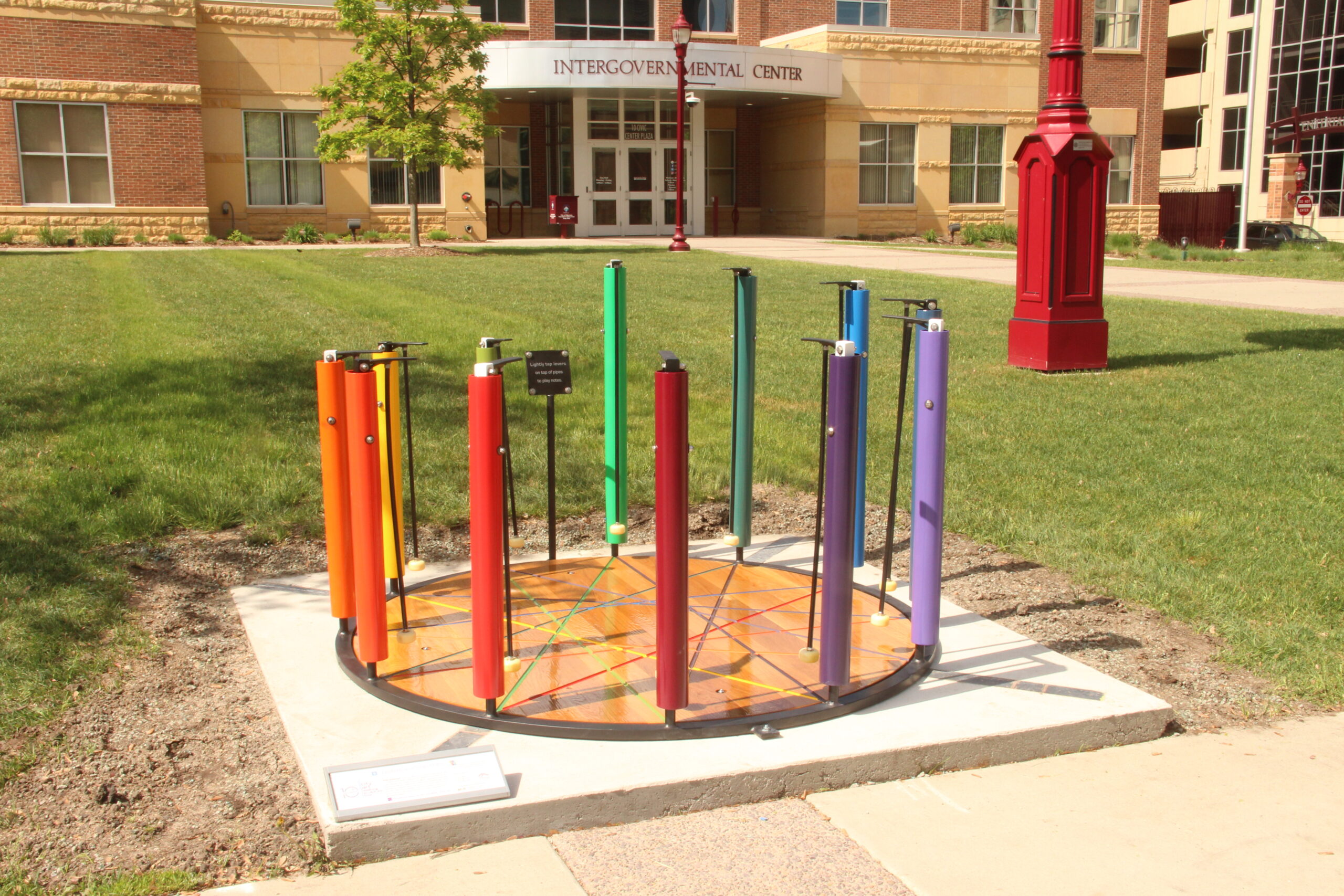 5.
Variations on a Circle of Fifths
Isaac Kidder
Minnesota
Materials:
Steel, Aluminum
Selling Price: $15,000
Audio Tour
Artist Statement:
Circle of Fifths is an interactive musical installation made of 12 tone pipes of varying color and height spaced evenly on the circumference of a 5' 8" diameter circle. Each aluminum tone pipe is tuned to 1 of 12 notes that make up the Western chromatic music scale. Viewers can play almost any melody their heart desires by using any of the 4 hand mallets secured to the sculpture via cables. The Circle of Fifths title refers to the relationship between two notes essential to song structure: the "tonic" and "dominant," or the first or fifth note in a musical scale. A song is typically played in a scale composed of 5-7 of the 12 notes. The first note of a scale is the tonic and the fifth note is the dominant. The tonic and dominant have an important harmonic relationship in most of the songs we hear on a day to day basis (i.e. in pop, rock, classical, country music, etc.), and this tonic-dominant relationship can be explored both audibly and visually in the sculpture. Lines in the center of the base connect each tonic to its dominant and also intersect to create a colorful and symmetrical geometric design. All people, regardless of their age, are welcome to play music on this installation and possibly learn a bit more about music theory in the process.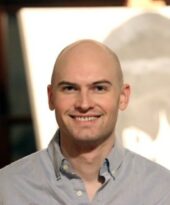 About Isaac Kidder
Isaac Kidder is an artist who specializes in both 2D and 3D work, focusing on metal and wood sculpture, painting, photography, drawing, graphic and restorative artwork. He graduated from St. Olaf College (Northfield, MN) in 2006, where he received a B.A. in Biology and Studio Art. In his artwork Isaac uses the themes of balance, symmetry and connectivity. He believes art can serve as a tool to heal and transform lives and inspire critical thinking and self reflection all while being fun and playful.
To fully engage the viewer, some of Isaacs artwork is interactive and at times also functional. Isaac has displayed interactive public sculptures and other artwork in Minnesota, Michigan and Illinois. Isaac is also a music teacher and is currently pursuing a Master of Music Therapy degree at Augsburg University (Minneapolis, MN). He has displayed interactive sculptural installations which relate to these topics and incorporate his interests of music and healing.