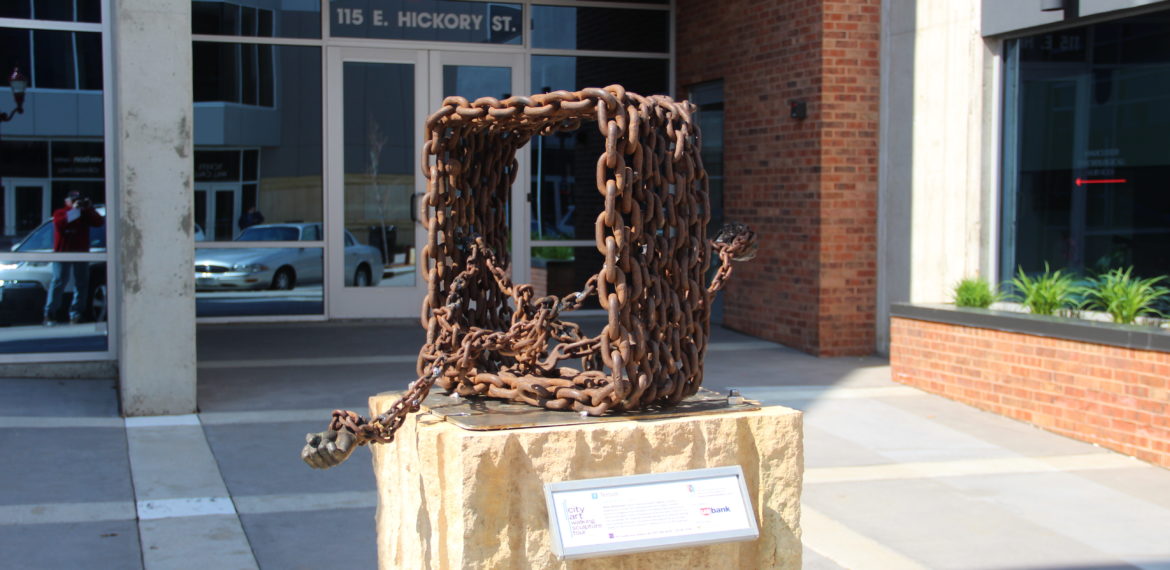 7.
Tension
Jamie Weinfurter
South Dakota
Materials:
Steel & Bronze
Sponsors:

Selling Price: $2,000
Audio Tour
Artist Statement:
Rusted chains are welded together as linking experiences in my life. The continuous main form creates a window around an ambiguous future dictated by the delicate balancing act of the distress and healthy stress in the gestures of the two hands. Cast from my own extremities, the closed fist embodies perseverance while the reaching hand expresses insecurity. The tension of the opposite forces provides stability so the structure continues to develop as my own life progresses.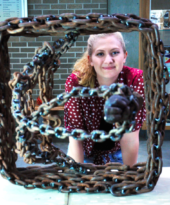 About Jamie Weinfurter
Jamie Weinfurter was born and raised in rural central Wisconsin. From a young age, Weinfurter developed a passion for drawing and crafting as a means for self-expression, which developed into investigations of contemporary social issues. She earned a Bachelor of Fine Arts degree at the University of Wisconsin-Stevens Point with an emphasis in 3D. There, Weinfurter displayed her work in various juried exhibitions, created a juried show with her, peers and became an officer for multiple organizations and intern for two years. Now Minneapolis based, Weinfurter is participating in numerous group shows in Minnesota, Illinois, and Wisconsin; has a piece on public display in Deerfield, Illinois; and will have an internship at the Josephine Sculpture Park in Kentucky spring 2019.