23
Snow
Sung-Hee Min
Minnesota
Sponsors:

Selling Price: $8,000.00
Audio Tour
Artist Statement:
Snow is a welded metal sculpture inspired by the motion of falling snow. The repetitive square motif is intended to engage the viewers in a playful, yet meditative way like an experience when one sees falling snow. With movement in mind, orderly patterns and repetition are prominent elements in this piece. The play between the squares and the negative space plays an important role in the dynamics of the sculpture.
Similar to quilt making, the process to create this piece uses shapes that are repeated into a larger area. The squares are cut from a thin steel sheet and constructed into a self-supporting cube. Most of the elements are joined corner to corner in order to appear weightless and floating. Metal can become heavy very quickly. I use the minimal amount of material possible. Sections are built for the same reason: to minimize material.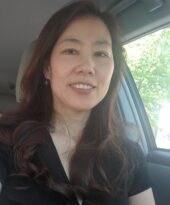 About Sung-Hee Min
Sunghee Min is a metal artist based in Roseville Minnesota. She was born and raised in South Korea. Min moved to California in her twenties and studied sculpture at the Academy of Art University in San Francisco. After graduating in 2000, Min maintained a metal studio in the Bay View arts district of San Francisco and showed her work in the galleries in the San Francisco Bay Area, Los Angeles, and Seoul Korea. Min has lived several years abroad before moving to Minnesota in 2016, for those years, metal art making was limited and she taught art classes for kids and volunteered in various local community art projects. For the recent years Min has been focusing on public art. Public art enables Min to explore beyond the interests and concerns of her own aesthetics and backgrounds, and she enjoys creating works that reaches broader audiences.
Min's primary medium is metal, especially steel and stainless steel. She builds abstract sculptures using manufactured metal sheets, bars, angle irons and other shaped products. She likes to incorporate simple geometric shapes for its universal familiarity and recognition. Triangles and squares are abundant in her work. Geometry allows little room for mistakes and intuitive changes in the process, yet Min enjoys the moment that everything fits together and the finished work is a clear reflection of what she envisioned.