2017 Walking Sculpture Tour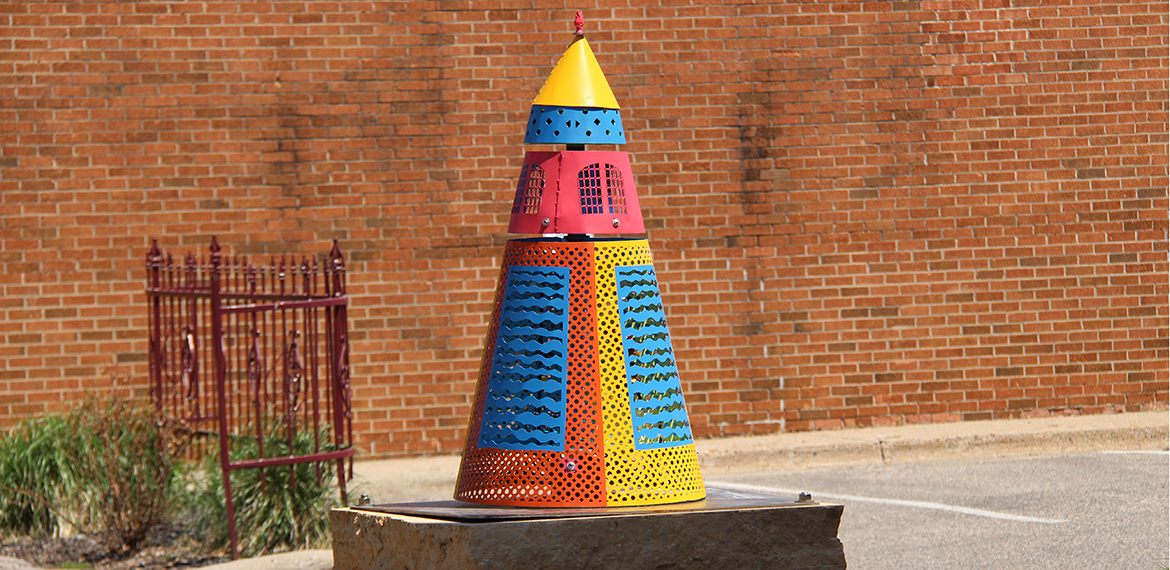 9.
Mod Pod
Gail Katz-James
Minnesota
Materials:
Mild Steel & Mixed Media
Sponsors:

Selling Price: $6,500
Audio Tour
Artist Statement:
Mod Pod is inspired by a vintage toy space capsule crossed with a straw dispenser and retro spinning top. Each level of the sculpture contains different suspended objects to discover. Give each section a gentle spin and peek inside to see the movement of the tiny treasures inside and imagine your own liftoff!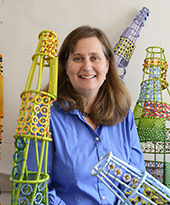 About Gail Katz-James
Gail Katz-James is a Minneapolis artist who transforms steel and recycled objects into sculptures. She holds a BA in East Asian Studies (Japan) from Yale University and an MFA in Textile Arts from UC Davis (1996). The Japanese minimalist aesthetic, traditional textile processes, and a love of pattern and repetition continually influence her artwork.
She is a fiscal year 2016 recipient of an Artist Initiative grant from the Minnesota State Arts Board.
Permanent Commissions include: City of Minneapolis (2016-17); Minnesota Children's Hospital St. Paul (2015); Minneapolis Arts Commission (2013); Arts on Chicago, Pillsbury House (2013) and Minnesota Children's Hospital Minneapolis (2012). Gail's work can be seen on electrical boxes throughout the city of Minneapolis. In September 2017, she will exhibit in a solo show at the Nemeth Art Center in Park Rapids, MN.