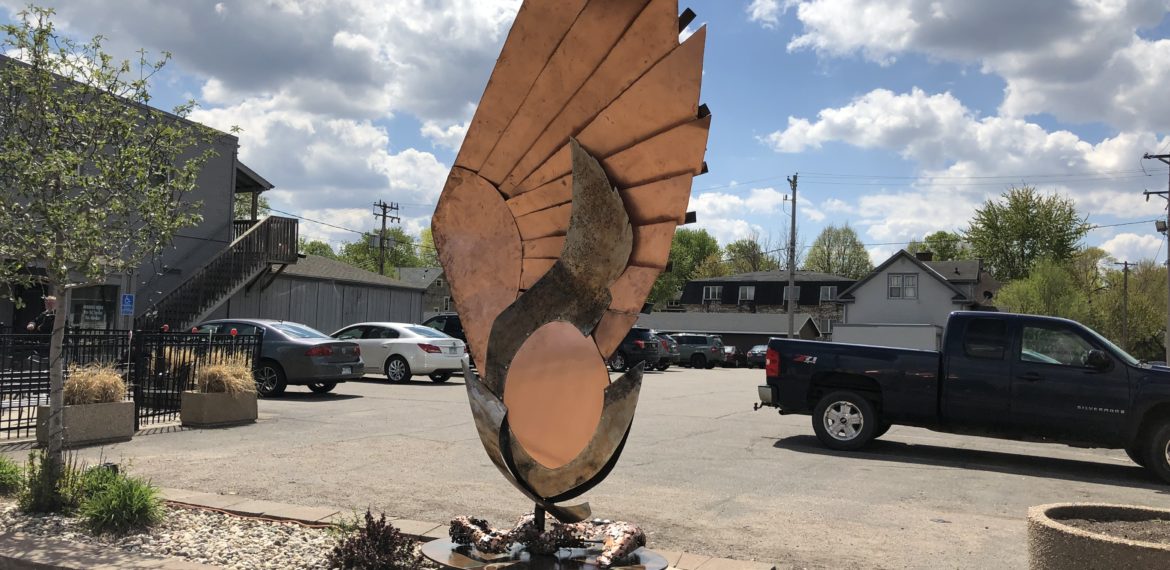 23.
Mehiel
Susan Woodford & Kent Hertz
Iowa
Materials:
Steel, Stainless Steel, Copper
Selling Price: $11,000
Audio Tour
Artist Statement:
Mehiel, the Angel of inspiration, creativity, mathematics, and science, is revealed during a moment of heart-break. Mehiel, huddled on the geared floor in intense anguish and vulnerability, has internal illumination demonstrating a slow heartbeat. The feathers reaching to the sky are windmill, or turbine, or weapon-like to show strength, ingenuity, and protection. As the eye follows the spiral of the copper feathers back down to a steel wingpit, an oval at the heart of the wing welcomes viewers to participate with the sculpture. A singing bowl and attached mallet allows viewers to create a low, quiet, sustainable tone as they rotate the mallet along the outside rim.
About Susan Woodford & Kent Hertz
In their first collaboration, Susan Woodford and Kent Hertz designed a sculptural light and spatial experience.  Woodford uses fire to transform unyielding materials into creations of movement, feminine form, and abstract imagery.
www.susanwoodford.com
Kent Hertz, an L.A. based sound and light engineer with over 20 years experience and 600+ projects published, uses light to create 4D movement in static and kinetic sculpture designed with Woodford.
www.kenthertz.com