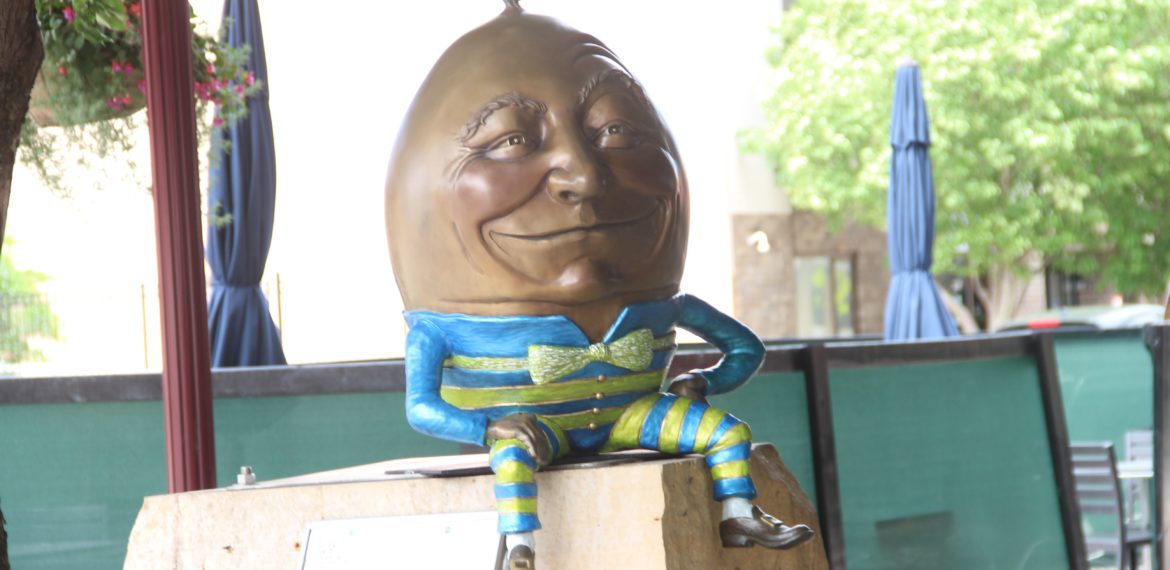 15
Humpty Dumpty
Kimber Fiebiger
Minnesota
Selling Price: $14,000
Audio Tour
Artist Statement:
H.D. is part of a series of Humpty Dumpty sculptures she has created. The pieces are fun, whimsical, and created into positions that illustrate movement. Their friendly appearance and energy-filled poses exemplify Kimber's ongoing interest in engaging the public in an experience that creates a tactile interaction between the viewer and the piece. All these pieces, with their humorous expressions, present a fascinating contradiction to the seriousness of bronze casting.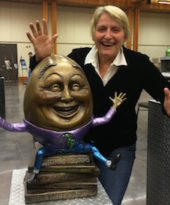 About Kimber Fiebiger
Kimber Fiebiger, a Minneapolis native, creates bronze sculptures that range from fun and whimsical, to classical and contemporary. Her sculptures have been sold all over the country where she has won numerous awards at juried exhibits and art festivals. Her work can be found in private collections, city parks, and public art spaces. Besides being a sculpture, Kimber has created a home/gallery/studio that has been described as having the artful complexity of Spanish designer Antonie Gaudi combined with the surreal nature of Pablo Picasso.
Kimber Fiebiger has been creating sculptures for over 30 years. Her artwork represents two distinctive sides of her personality – someone who greatly enjoys the fun times life brings us but also values and admires the human body and the spiritual side. To create her artwork she uses the ancient art form of transforming a clay sculpture into a work of bronze, which requires skill and years of experience in several areas.