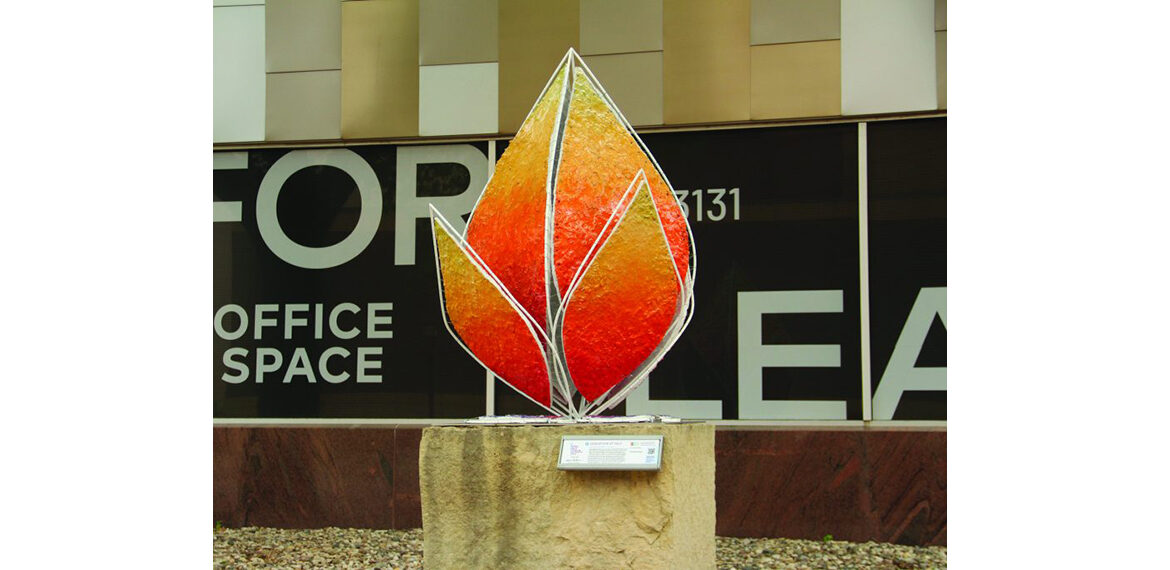 8
Gradation of Self
Brittney Wegener
Minnesota
Materials:
Metal, Tissue Paper Panels, Resin, Air Craft Cable
Sponsors:

Selling Price: $15,000.00
Audio Tour
Artist Statement:
The sculpture, which I have named Gradation of Self, is framed by a series of white metal rods. These rods make up the frame for the 12 petals. The top eight petals have a color gradation from red to yellow. The bottom four petals will have a color gradation from red to blue. Meanwhile, the interior of the panels will be white. I envision these contrasting colors will truly enliven the sidewalk to the enjoyment of both pedestrians and drivers alike. Not only is the lotus an easily identified flower, but it's also a flower that many different cultures connect with. There are many values and conceptual layers to this sculpture, bringing beauty and intrigue to the space it resides, but more importantly creating a sense of inclusion among the viewers. The lotus flower is a perfect analogy for the human condition; even when its roots are in the dirtiest of waters, the lotus still produces the most beautiful flower that reaches past standard heights to bloom. Then closes every night to regenerate and protect itself. The list of cultures that find symbology with this flower is vast. When looking to sum up the key points I lay rest in the mantra of "Om Mani Padme Hum" - meaning - I am in you, you are in me.
About Brittney Wegener
As a Minnesota Native, Brittney Wegener loves nature and the beauty of the life and death cycles prevalent in this climate. A desire to connect people to nature and beyond, Wegener enrolled and graduated from Minnesota State University, Mankato in 2020 with a Bachelor's of Fine Arts in sculpture; currently finishing up her last year of graduate school at Minnesota State University, Mankato in sculpture. Being a conscious creator, Wegener has been involved in The Movers and Shakers, Twin Rivers Council for the Arts' Starving Artist event, The Makers Space and other groups on Minnesota State University, Mankato campus. This community involvement has both encouraged her and led her to receive several grants, scholarships, and awards for her work. The most relevant accomplishment is her internship at Franconia Sculpture Park that led to a two-year public art contract with the park. Moving forward, Wegener is working to create more of these sacred spaces that relate to different cycles of life.