2017 Walking Sculpture Tour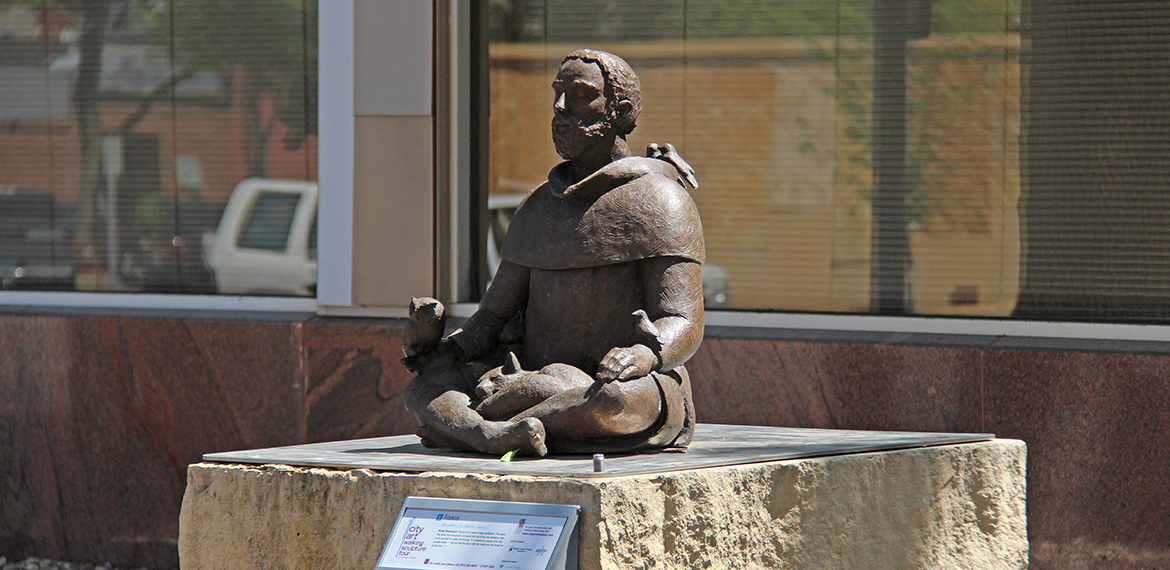 5.
Francis
Josie Campbell-Dellenbaugh
Connecticut
Selling Price: $14,000
Audio Tour
Artist Statement:
Francis is in a state of deep meditation. The peace that flows from his prayer surrounds him and draws the animals to him so all can exist in a state of harmony. To reinterpret a phrase from the prophet Isaiah "…the fox shall lie down with the rabbit and the thrush sit by the owl…"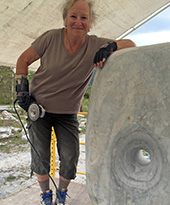 About Josie Campbell-Dellenbaugh
Josie Campbell Dellenbaugh received a BA in Fine Arts from Chatham University, Pittsburgh, PA in 1969 but only started modeling from life in 1976 at the John Atelier in Princeton NJ. She learned the technique of direct stone carving with hand tools at the Princeton Art Association in 1980. She continued her studies at Rutgers University Camden with a course in bronze foundry practice. In 2008, she expanded her stone repertoire at marble/Marble XX in Colorado, where she learned to carve with power tools. Currently, she works out of her home studios in Glastonbury CT and Center Harbor NH. Several times a year she journeys to Rutland VT to carve at the Carving Studio and Sculpture Center quarry there, where she is part of a collaborative carving project depicting the seasons in Vermont and also working solely on a 3800 pound block of marble in honor of the pioneering spirit.