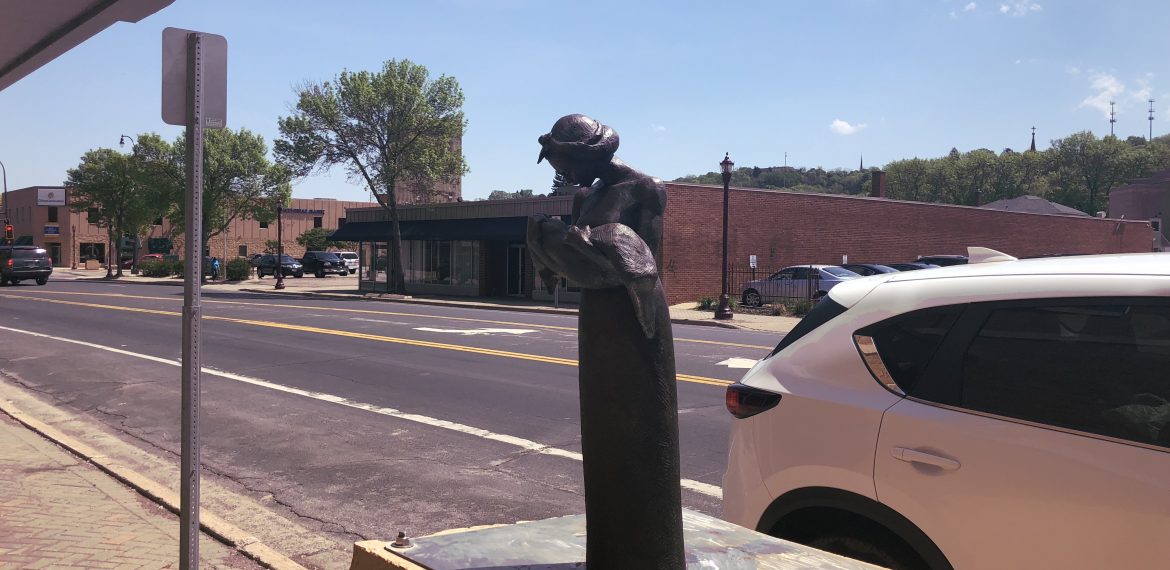 17.
African Pieta
Josie Campbell Dellenbaugh
Connecticut
Sponsors:

Selling Price: $10,000
Audio Tour
Artist Statement:
While reading the paper one day about the wars in East Africa and the famine and devastation there, I came across the picture of a mother holding the body of her dead baby. The Christian concept of a Pieta, Mary grieving over the body of her dead son, Christ, can become a universal construct for this particular and devastating type of grief. I particularly chose not to be too graphic about the child, merely suggesting the body in a wrapped bundle. I modeled the mother as a starving Somali woman and concentrated the emotion of the sculpture in the sorrow of her pose and face, the tenderness of her hands as she cradles the child.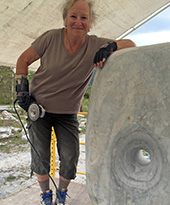 About Josie Campbell Dellenbaugh
Campbell-Dellenbaugh received a BA in Fine Arts from Chatham University, Pittsburgh, PA in 1969, but only started modeling from life in 1976 at the John Atelier in Princeton NJ. She learned the technique of direct stone carving with hand tools at the Princeton Art Association in 1980, and continued her studies at Rutgers University Camden with a course in bronze foundry practice. In 2008, she expanded her stone repertoire at marble/Marble XX in Colorado where she learned to carve with power tools. She currently works out of her home studios in Glastonbury CT and Center Harbor NH.
Campbell Dellenbaugh's work has been part of many solo and juried exhibitions mainly in New England and the mid-Atlantic region. One piece, a bust of a newborn baby, was part of an exchange exhibition to Moscow, Russia. She has won numerous awards in various venues over the past 40 years, including CT Women Artists Association, Phillip Mill Patrons' Award in PA, the Liskin Award, the Isenberg Award, the DeBellis & Richman Awards at the Salmagundi Club in NYC, and the Montana Memorial Award at the Hudson Valley Art Association in NY. In 2017, she was awarded the Gibbons Prize for excellence in sculpture by the New England Sculptors Association.
Her work in is many private collections as well as Goodwin College in East Hartford CT, Planned Parenthood of Pennsylvania, St. Paul's Church, Chatham NJ, and Christ Church, Raleigh NC.
From May through November of 2014 "Spirit Made Manifest", her solo show of 8 large bronze figures and a fountain, was exhibited in the gardens of the Passionist Retreat Center in West Hartford CT. She has been a participant in Sculpture walks in Meredith NH, Newburyport MA, Sioux Falls SD, Mankato MN, Eau Claire WI, and Castlegar BC.